SalesBridges
ESD Worktable for electronic industry
ESD Workstation ensure circulation and evacuation of static electricity. Best to use in electrical, electronics, electromechanics industry.
Product description

Workstation for electronic industry with 30mm thick laminated ESD anti-static worktop, straight edges
The electronics industry is particularly concerned by the risk of undesirable leakage current which could damage electronic equipment such as integrated circuits.
ESD Workstations is designed for the electronics industry. The primary criteria for use in the electronics industry is the removal of any electrostatic charge that the assembly components may attract and which can cause harmful electrostatic discharges both to the operator and the components themselves.
The workstation environment must be taken into account and allow for the discharging of electrostatic charges from the workstation to the ground.
Specification of the workbench:
Workstation with 30mm thick ESD anti-static laminated worktop ;

1 depth : 900 mm ;

2 Heights : 780 mm or 880mm ;

3 lengths : 1200, 1600 or 1800 mm ;

Load capacity : 200 Kg ;

Frame finishing : a specific, semi-conducting paint RAL 7035  loaded with carbon also ensures evacuation of static electricity. 

Connection elements: electrical braiding or earthing kits for elements or employees complete this evacuation process. Specific jacks or castors are used to earth the furniture and/or seats.

Isolation elements: certain elements in the other hand must be insulated. Insulating foam kits are used to achieve this objective by interrupting the circulation of electrostatic current

Sold without shelves
Options :
Horizontal shelf Depth 500 mm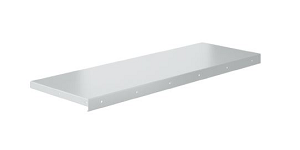 Reclining shelf from 0 to 45° for Depth 400 mm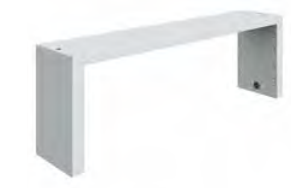 Accessories:
ESD insulating foam isolation kit for raised shelf and for inclined ramp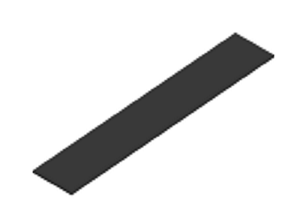 ESD electro-static protection kit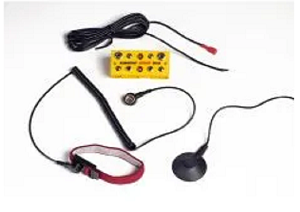 ESD antistatic mat for trays and shelves for worktop, for reclining shelves

ESD Footrest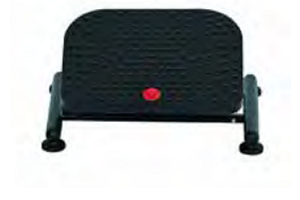 ELECTROSTATIC DISCHARGE
ESD or Electro Static Discharge is the rapid passage of electrical current between two objects of different electrical potentials. ESD
is caused by a build-up of static electricity due to the separation of electrical charges which are produced when two materials are
placed together and then separated. This break of contact between the two materials generates a charge, which in turn creates an electrical potential difference which could result in an ESD. The electronics industry is particularly concerned by the risk of undesirable leakage current which could damage electronic equipment such as integrated circuits
MEANS OF PROTECTION
Protection against the undesirable effects of electrostatic discharge requires earthing of all elements on the work zone. The
entire working environment in the zone must therefore be taken into account: floor, furniture and persons must all be connected to
earth. An ESD zone must be created i.e. an insulated zone where electronic components are handled.
The zone guarantees the absence of electrical charge.
A COMBINED ACTION
There is no single method, but rather a multitude in order to create an ESD zone. The first step involves compilation of the required
protection specifications indicating the degree of protection expected and the earthing system. It must include an information and staff training folder for persons present in the ESD zone indicating the equipment to be worn and movement limitations
for themselves as well as the elements handled. The zone must be considered as a whole: floor, furniture, clothing, components, etc.


Trades involved
Electrical engineering technician Power station manager Electrical engineer Wiring technician Electronics and electrical monitor Electronics and electrical assembler Coil electrician Robotics technician Automation technician Electrician Electronics assembly picker Electrical cabinet wirer Electrical and electronic inspector/operator
The worktops are certified PEFC
The proposed ESD furniture compile with IEC 61340-5-1 relative to the protected areas.

Not all dimensions, table top options and frame colors are available online. However, a lot is possible on request. 

Made in France
We are happy to help you with all your questions. You can contact us by email at [email protected] We can be reached by phone during office hours on +971 54 355 46 79
Product information
| | |
| --- | --- |
| Brand | SalesBridges |
| Article code | SB07GZLAB |
| SKU | SB07GZLAB |
| EAN | 9503967832222 |