Steel Master Formwork System
Frame formwork SB is a complete system that includes accessories ensuring operation and safety and offering the opportunity to meet any challenges promptly and efficiently.
Big-and small-sized walls;
Foundations;
Columns and pillars.
Due to reinforced profiles used our frame formwork panels both along edges and inside panel the high load-carrying capacity of the following elements is guaranteed:
Frame panels 80 kN/m2;
Versatile panels 80 kN/m2.
Distinguishing the frame formwork from the products of other similar systems manufactures.
The specially developed profile of elements is not only more load resistant in the process of concreting but also makes the replacement of formwork plywood at the end of its useful life substantially easier as compared with elements of other manufacturers.
> Performance
80 kN/m² permissable fresh concrete pressure
> Versatile
Panel height: 1,35 m / 2,70 m / 3,30 m
Panel width: 0,25 m / 0,30 m / 0,45 m / 0,50 m / 0,55 m / 0,60 m / 0,90 m / 1,35 m / 2,40 m / 2,70 m
> For crane use
 Stable and ergonomic geometry
Heights up to 3,30 m without extension
High-quality galvanized
Easy cleaning
> Maximum dimensional stability
Fit for toughest use
Increased lifespan
> Excellent concrete finish
Only two ties required up to 3,15 m height
High-quality plywood (phenolic coated, plastic coated and solid plastic (Alkus))
Flat sheets requiring no special cutouts for anchor holes are used.
Filmfaced plywood of 21 mm thickness is used in panels.
Plywood is fastened with self-threading screws to the external side of panels providing smoothness of the surface contacting the concrete.
Plywood replacing is easy and efficient.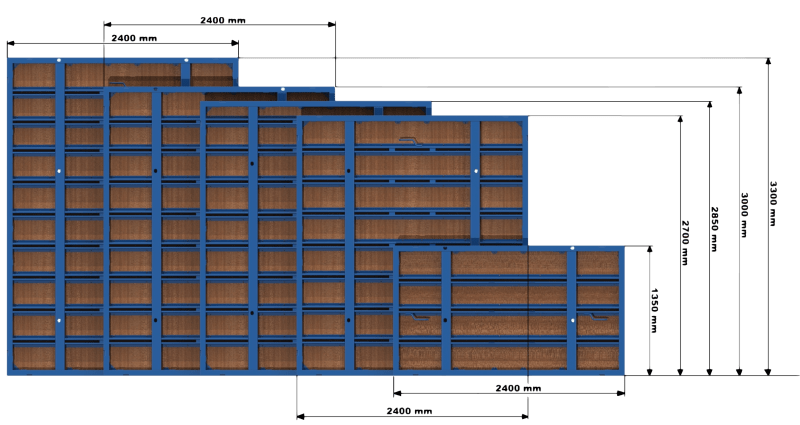 SB frame formwork system:
Ensure high level of efficiency and quality of concrete surface;
Guarantees reduction of expenses by means of restoration and cleaning possibilities;
Substantially simplifies lifting shafts and stair wells incasing through easy-to-use and reliable stripping elements.

 

Logical modular set:

Reasonable range of elements offers the possibility to make optimal frame formwork adjustment to any in-site demands;
Thought-out elements allow easy and quick work and make expensive equipment combinations unnecessary. High load-carrying capacity 80 kN/m2 and long life time provide the SB formwork efficiency for all wall incasing tasks;
The SB frame formwork with a few elements has 15 cm pitch irrespective of horizontal or vertical method of application;
For maximum adjustment of the frame formwork to any construction site Salesbridges BV produces panels with the dimensions differ from foregoing.

Frames and forged connection accessories are hot-dip galvanized for a long lifespan. 
Made in EU