Traffic Barrier- CH, SINGLE RAIL, Flexible Impact Protection Modular
AED 0.00 AED
Salesbridges
Traffic Barrier- CH, SINGLE RAIL, Flexible Impact Protection Modular
TUV-Tested Traffic Barrier, Made of special flexible Material, Height 516 mm, Post Diameter 200 mm and Base Plate 225 mm x 225 mm. Modular, Flexible Impact Protection, Provides an Optimal Protection for Machines, Inventory and Employees. Easy Assemb
Product description

Traffic Barrier SINGLE RAIL, Flexible Modular

The round shape allows the colliding forklift to bounce of the barrier, therefore absorbing the force. It functions as a guide throughout the installed area
Easy, fast and cost effective reroute traffic routes from work areas or pedestrian paths.

Bollards are a useful addition to the end of the traffic barriers.
Traffic barrier single rail "Charlie", modular, height 516 mm, made of special flexible material, post-Ø 200 mm and base plate 225 x 225 mm.
Flexible impact protection .The flexible material is deforming and returns after a collision to its original shape. 

Easy installation - fixing material included in the delivery

Minimizes maintenance charges considerably

Different possibilities for individual application

Products CHARLIE:
SBDFVB-E Modular end post: height 516 mm, base plate 225 x 225 mm, 12.8 kg
SBDFVB-M Modular middle post: height 516 mm, base plate 225 x 225 mm, 13.6 kg
SBDFVB-R Standard beam: Ø 160 mm, length 930 mm, 2.9 kg
SBDFVB-I Custom beam: Ø 160 mm, length 200-929 mm, 2.7 kg
Customizable and modular design make sure there is a solution for every situation and building. Highly resistible, flexible material ensures that the optimum between protection and cost efficency is provided and the inventory is protected.
Profit from advantages or modular total solutions for the best price.

Optimal protection for machines, inventory and employees.

Available from stock within 10 days.

Easy to install with the supplied mounting material.
Option : 
Slider plate :Adapter for ground plate of diameter 200 mm post, black, 330 x 240 mm, height 21 mm, for taking in a foot plate of 225 x 225 mm.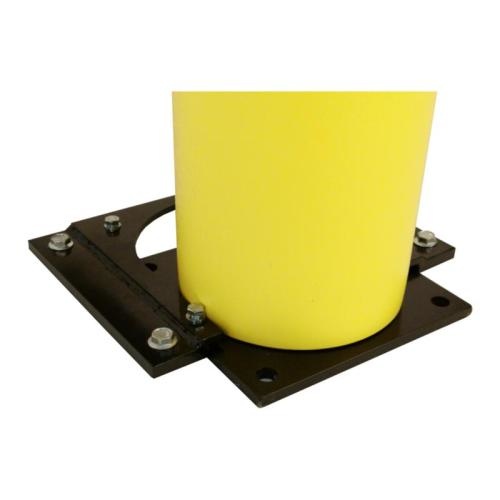 Do you have questions or are you interested in a quotation?

We gladly support you.

Please reach us by email at [email protected] or telephone +971 56 150 6935. To be able to offer you the best support, we kindly ask you to send drawings / photos / information about your project.