Chip Container 500L (17.7cu ft) with Lifting Eyes Hinged Bottom waste Container for Forklift and Crane BB-Model
AED 4,400.00 AED
AED 3,999.95 AED
SalesBridges
Sale
Chip Container 500L (17.7cu ft) with Lifting Eyes Hinged Bottom waste Container for Forklift and Crane BB-Model
AED 3,999.95
AED 4,400.00 Excl. tax
AED 4,199.95 Incl. tax
Skip Bottom Container 500L Equipped with Lifting Eyes for more transporting convenience. Suitable for forklift and crane. Finishing with powder coating. Used for . For Collecting , Storing and Transporting metal, glass, wood, construction debris.
Product description
Chip Container 500L with Lifting Eyes Hinged Bottom Tipper Container for Forklift and Crane BB-model
Length: 1394 mm

Width: 932 mm

Height: 760 mm

Weight: 138 kg

Payload: 1000 kg

Volume: 500L

Plus: Lifting Eyes

Dimensions of lift pockets: (A) 550 mm x (B) 220 mm x (C) 80 mm

Without wheels

Options wheels: nylon or PU wheels, grey elastic rubber, not mounted

Option: mounting wheels - only in combination with a wheelset to your choice!

Material: steel

Finishing: powdercoating

Color: RAL5010

Suitable for forklift and crane

Container steel plate: 2 mm

Base frame steel plate: 3 mm

Excellent center load gravity
Other RAL-colors available upon request.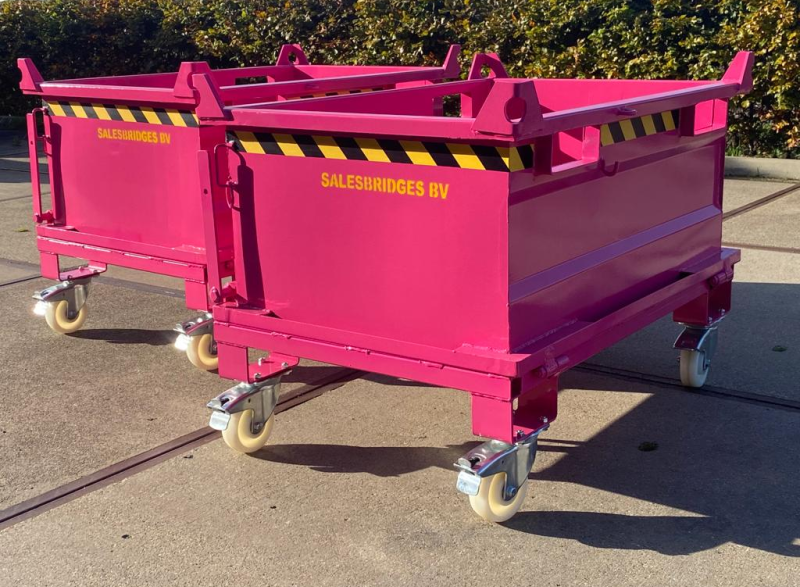 Chip Container Hinged Bottom SBTCBB500L with Lifting Eyes. Suitable for forklift and crane.
Option Wheel set  : 
- 2 fixed (front) & 2 swivel + brake (back) Heavy duty Elastic grey rubber 125mm diam. load capacity 400kg/
wheel

. 
- 2 fixed (front) & 2 swivel + brake (back) Heavy duty   Polyamide White neylon 150mm diam. 800Kg/
wheel

. 
- 2 fixed (front) & 2 swivel + brake (back) Heavy duty 160mm 600kg/
wheel

. Bruin PU for indoor use (concrete floor) No noise, smooth rolling.
PS: the 
wheels

are shipped separately. Simple fixing with M10 screws and bolts which are provided with the 

wheel

 set.

 
SBTCBB series
SBTCBB is a highly valued Hinged Bottom Container, due to its durability. Small industrial vehicles are flexible, maneuverable and can also be equipped with various additional forklift attachments to perform different tasks. This container can be used for, for example, metal, glass, wood, debris. Collecting, storing and transporting with the SBTCBB is possible.
The Hinged Bottom Skip is also very suitable for use on construction sites, because multiple containers can be stacked on each other and transported by truck or crane. Space-saving storage and easily transported.
The Tippling Container SBTCKB has a large number of positive features in its functionality. The suspension of the bottom is assisted by tensile springs during emptying. The hinged bottom opens to other side of the forklift, so that emptying can take place without impact on the forklift.
Equipped with a safe and stable unlocking mechanism, which can be operated by a pull cord from the driver's seat. For additional safety, a safety chain can be attached on the forklift. Add a security chain and cable set to your order.
The containers can be ordered with wheels. The wheels are delivered not mounted as a set, including mounting material. We can also mount the wheels for you before delivery. Please tick ​​'mounting wheels' for this option.
Thanks to the use of high-quality steel sheets and excellent finishing, the bottom skip containers are very durable and robust. Finishing with powder coating in standard color RAL5010.
Custom work is possible upon request. Also available in other RAL colors upon request.
Hinged bottom container applications: metal, glass, wood, debris and more
Available sizes: 500L, 750L, 1000L, 1300L, 1500L, 2000L
For international inquiries and shipping please contact us at [email protected].
Product information
| | |
| --- | --- |
| Brand | SalesBridges |
| Article code | SBTCBB500L |
| SKU | SBTCBB500L |
| EAN | 9508865541375 |