Industrial worktable for mechanical and automotive workshop
AED 0.00 AED
SalesBridges
Industrial worktable for mechanical and automotive workshop
Workbench used in the mechanical and automotive industry meet exacting standards in terms of strength, durability and safety for people and equipment. Heavy duty Workbenches FIXED HEIGHT, height adjustment with locking screws, hand crank and electric
Product description

Industrial worktable for mechanical and automotive workshop
The workstations used in the automotive industry meet exacting standards in terms of strength, durability, flexibility, productivity, ergonomics and safety for people and equipment.
Sturdiness is provided by the workbench frame design, which has been created using the right materials and can bear heavy loads.
Stability and rigidity prevent vibrations and any warping of the workbench that would be detrimental to the manufacturing work. The workbenches can bear the stresses created on automotive production lines as they have been subjected to testing in excess of actual loads during tests performed by the FCBA for NF Technical Furniture certification.
Those tests also demonstrate the durability of our products with test cycles that represent a workbench life of 13 years under heavy use conditions.
The worktop finish and frame paint provide maximum durability in a harsh environment.
Specification of the workbench:
Comes in 4 versions :
1. Fixed-height frame, Max Load 1500 Kg.
Options: The legs can be replaced with a drawer cabinets . This drawer cabinets is 430 mm wide overall and 600 mm deep overall.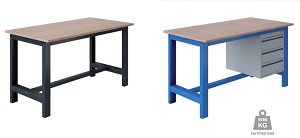 2. Workbench with rack height adjustment enables the working height to be modified in 40 mm steps and locked with screws and
bolts. The adjustment range extends from 740 to 1020 for the frame Max Load 1000 Kg.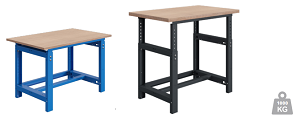 3. Workbench version with height adjustment by crank enables adjustment to exactly the desired height. A set of 4 hydraulic cylinders raise the frame and workbench-top assembly above the base framework. The principle provides great strength at all heights. Max load 300 Kg.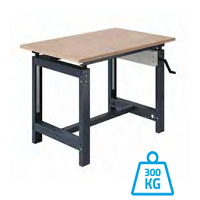 4. Frame with electric height adjustment. The adjustment range extends from 700 to 1100 for the frame, excluding the thickness of the workbench top. Max. speed unladen: 38 mm/s Max Load 300 Kg. Option Drawers:1xH150, 2xH75, 2xH150, 4xH75, 3xH100,
2xH75 + 1xH150, 1xH75 + 1xH100 + 1xH125, 1xH100 + 1xH200, 1xH300.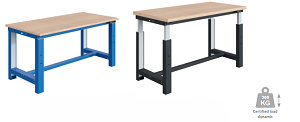 Options :The framework can be equipped with height adjustment cylinders (travel 30 mm, from 825 mm to 855 mm,
excluding workbench top) or a set of four 100 mm castors, two of them braked in this case max Load will be 300 Kg.
5 Choices of worktop :
High abrasion resistance or anti-shock, thickness 40 mm

Plywood thickness 40 mm or 24 mm 

Plywood with PEHD surface layer

45mm or 29mm

42mm plywood with rubber surface layer

42mm plywood with stainless steel surface or

42mm plywood with galvanized surface

 

 

 
Dimensions o

f the workstations
7 choices Length: 750 (W.750 only), 1000, 1200, 1500, 1800, 2000 and 2400

2 choices of Width: 750 and 1000
Options:
1 drawer H 15 cm

2 drawers H 15 cm

3 drawers H 15 cm

1 drawer H 7.5 cm  + 4 drawers H 15 cm

Option:
Galvanized shelf for workbench
A range of accessories are available to render this workstation suitable for the needs of each trade.

FLEXIBILITY AND ADAPTABILITY
Workers' safety is ensured by the anti-pinch frame spaces, the covered screws, nuts and bolts, and the soft edges.
Workbenches for the automotive industry can be made height-adjustable, have superstructure accessories added to hold tools within reach and feature suitable lighting, electrification systems, inbuilt or separate storage units, and computer mounts. These options  combined with the ease of reconfiguring the various units thanks to their modular nature, enable our products to meet the automotive industry's need for flexibility and ergonomics.
Because these workstations and their accessories and related equipment are easy to incorporate, productivity performance is boosted and workflow is more effectively managed.
Trades involved
Fitter /Bodywork technician or repairer/ Car mechanic / Mechatronics engineer / Micro technician/ Skilled worker / Bodywork painter/ Welder /Automotive electrician or electronics engineer /Quality technician /Sheet metal worker /Pressing/cladding technician /Assembler /Assembly picker /Wiring technician Electrician /Trial technician



Made in France
We are happy to help you with all your questions. You can contact us by email at [email protected] We can be reached by phone during office hours on +971 54 355 46 79.
Product information
| | |
| --- | --- |
| Brand | SalesBridges |
| Article code | SB01001SI |
| SKU | SB01001SI |
| EAN | 9505723729265 |